Montenegro divorces Serbia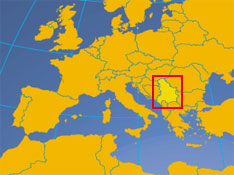 Serbia-Montenegro is no more.Montenegro voted today to end it's union with its neighbor according to the latest poll results conducted by watchdog group CEMI.
The two former Yugoslav republics located on the west-central
Balkan Peninsula
had been a union since 1992 after the breakup of the
Socialist Federal Republic of Yugoslavia
.The vote was won by just point four of a percent.
"I'm sure that tonight a democratic Montenegro will be celebrated," said Prime Minister Milo Djukanovic, whose Democratic Party of Socialists had pushed for Montenegro's full independence.
It was thought that somewhere in the region of 410,000 people voted in the referendum which was divided mostly along ethnic lines, with Montenegrins and ethnic minorities voting for independence, while Serbs voted to retain the state union.Opponents insist however, it is too small and weak to be viable on its own.
55%was required for the question to pass.55.4% was the result.