Pair will be allowed to move back into "Refurbished house" : Mayor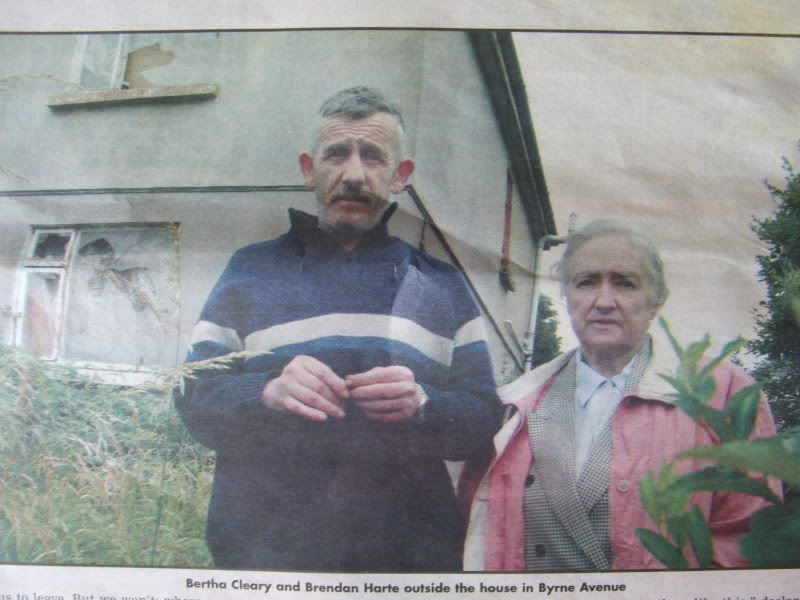 The two elderly people living in a rat infested , dilapidated house in Byrne Avenue, Prospect have finally said that they will leave the house nearly a week after possession of the house had been granted to Limerick City Council at the district court for breach of the tenancy agreement.
77-year-old Bertha Cleary and her friend Brendan Harte have agreed to move to alternative accommodation. It comes after the Mayor of Limerick intervened during the week and asked to meet the two elderly rebels who
refused to leave
their home.
He informed them during the meeting this morning that the council repossessed the house last Tuesday on health and safety reasons and that they both can move back into the house when it is fully refurbished!
However it was reported last week that she was being evicted for breach of the tenancy agreement, not paying rent, but that allegation seems to have slipped off the radar.
The Sheriff arrived with members of the Gardai to evict the two last Tuesday but when they arrived they were met by angry local neighbors who formed a barricade preventing the Sheriff from evicting the two.
So will the elderly rebels get their way , move back in to a new refurbished house and then not pay rent for months until the council has to kick them out again?.
We shall wait and see.
PhotoCredit: Limerick Leader