Murder victims brother in court after threatening to kill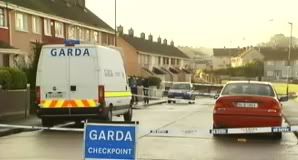 The brother of the man shot dead last night has appeared in court today charged with threatening to kill a woman.
Paul Crawford with an address in Southill is reported to have held his dieing brother in his hands shortly after the gunman fled the scene of the murder last night.
During the court sitting today Gardai told how the 32 year old, who is a high ranking member of the infamous McCarthy Dundon Gang, threatened to kill a woman in the Southill area not long after his brother was killed.
He was remanded, refused bail and will appear before a Limerick court again on Wednesday.
It's now widely believed that Paul Crawford was the intended target of the masked gunman last night.
More from Tuesdays Irish Examiner,
Detective Garda David Burke said he arrested Paul Crawford after threats were made to a woman shortly after the murder. Detective Garda Bourke said he believed Paul Crawford, and not his brother, Noel, was the intended victim of yesterday's shooting.

He said there had been two earlier attempts on Paul Crawford's life and he claimed that if Crawford got bail he would try to exact revenge on those who he believed killed his brother. Detective Garda Bourke claimed Crawford maintained he made the threat on the spur of the moment. However, he claimed that the woman was terrified and was fearful for her safety.

Detective Garda Bourke agreed with Ted McCarthy, solicitor, that the accused would not be able to attend the funeral of his brother if he was denied bail.