Garda horses on the beat in Moyross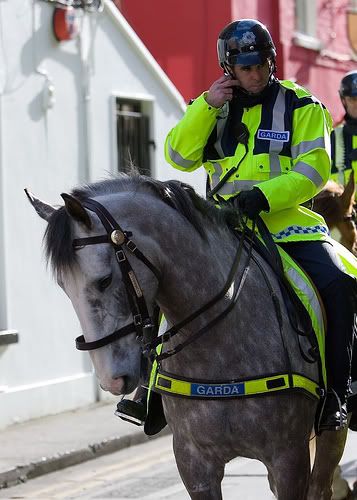 Last week I received an e-mail form a reader informing me about the new "additional Gardai" for Moyross in the form of 4 mounted Gardai patrolling the Pineview and Delmege estates.
An article however has appeared in Wednesdays Limerick Independent on the deployment which Garda chiefs are dubbing, "Operation Assist".
The operation has been set up to tackle anti-social behaviour and "out of control teenagers" according to the paper. The article goes on to give a eight paragraph history of the unit since its inception back in 1998 but fails to mention how effective it has been in Moyross the last month.
The e-mailer who contacted us informed us that locals seem to be "pissed off" at the deployment saying that the size of the Garda horses are intimidating for the local horses and raised the question ..."is it that locals will be impressed by the horses and give the Gardaí "respect"?
So was it the right decision to deploy Garda horses in Delmege / Pineview and will they have any effect of anti-social behavior?