Afghan hunger strikers "will kill themselves"
The standoff at the cathedral has escalated tonight with reports saying that 50 gardai have surrounded the church just before 8pm.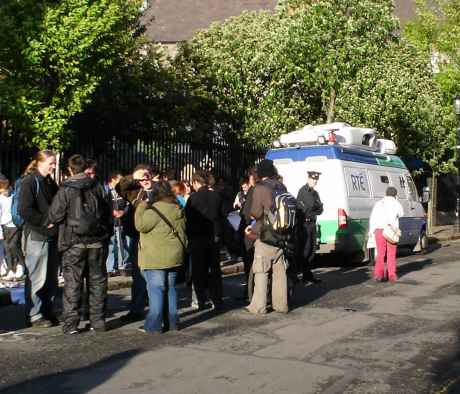 The Church of Ireland has asked the asylum seekers to leave the premises, however there are no signs that they intend to call off their six-day protest. RTE is reporting that the Church of Ireland has confirmed that it is pursuing legal options to bring the afghan church stand-off to a conclusion.
At least 15 gardai are still involved in a stand-off with the hunger strikers inside St. Patrick's Cathedral.This morning the HSE obtained a court order making all of the seven minorswards of court and it these individuals the garda operation is centring on.
They are holding fast their positions in the Cathedral, however the spokesperson for the Church, Janet Maxwell says they want the men to leave.Spokesperson for Residents Against Racism, Rosanna Flynn spent a number of hours with the Hunger Strikers this afternoon, she says many of them are ready to die
Sky news is showing a photo of 4 men in the afghan cathedral standoff with ropes around their necks.
Within the last few minutes justice Minister Michael McDowell has given his backing to the way the gardai are handling the situation at the cathedral
follow the story>>