River Deel protesters due before high court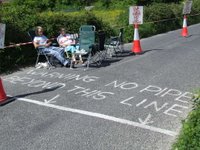 "Deelgate" will reach a new stage today when five of the protesters will appear before the High court after they breached an order handed down to them to cease their protest at the white line in Palaskenry.
The five are to explain why they breached a previous court order and prevented work from proceeding on the water scheme. If they don't give an undertaking to end their protest then could be locked up.
The project which has been stopped several times before and is designed to re-source the town's water supply which is currently coming from the local bleach lough.
The council wants the towns supply coming from the river Deel. The residents of Palaskenry are having none of it. They insist the river Deel is one of the most polluted rivers in Ireland. However the County Council say that the treatment of the water supply from the River Deel is "on a par" with any other supply in the country.
Protesters stopped workers from continuing with the project again last Wednesday and the County Council responded with Summonses which were served last Friday evening on the five people.
Photocredit: www.indymedia.ie