Man shot in city centre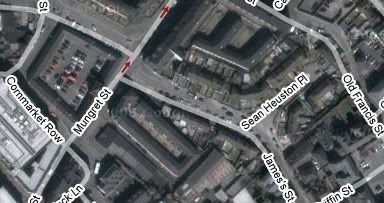 A man in his 30's is recovering in St. Johns Hospital today after he was injured in a shooting incident in the city centre this afternoon.
The
shooting
took place near the market area of the city, at Sean Heuston Place around 12.30pm.
The victim, Brian Collopy sustained gunshot wounds to his legs in the incident and is said to be in a serious but stable condition. Gardai suspect the shooting is connected to the murder of Noel Crawford last Sunday night.
Reports say a man approached the victim and opened fire hitting him in both legs before escaping in a silver car.
The scene has been sealed of for technical examination to be carried out later today.
Mr. Collopy(
left
) is a well known Limerick criminal who has convictions for larceny, car theft and drugs offences and was presented with a bill for tax on the proceeds of crime for €475,000 at his home in Fedamore by the Criminal assets bureau back in 2004
Map of City Centre
RTE
News Report
(Realplayer)Irish Examiner Story