Man appears in court after Gangland hit foiled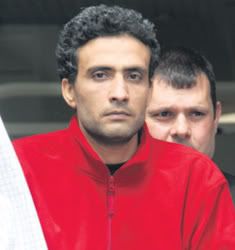 An Egyptian man has gone on trial today in Limerick charged with the possession of a powerful Sphinx semi-automatic pistol on June 14th of last year.
36 year old Ibrihme Hassan(
right
), who Gardai now believe is part of an international gang which had aligned itself to one of the factions in the ongoing Limerick feud, namely the McCarthy Dundon Gang, is also charged with possession of six rounds of .38mm ammunition for the same gun on the same date.
Prosecution told the court today how Gardai found the gun in the glove box of a car, The court heard the gun was found by Gardai on duty in an unmarked patrol car in Edward Street, where they saw two vehicles, the Galaxy and a black Volkswagen Golf.

Det Sgt Kevin McHugh said he saw Hassan take an object out of his jacket and put it into the glove compartment of the Galaxy before getting into the Golf. Gardai stopped the Golf and Det Sgt McHugh took a key from one of the occupants which opened the Ford Galaxy and found the gun.

Via Irish Independent

At the hearing today Mr. Hassan changed his plea to guilty as the court was told
of how the accused is under pressure to pay off a drug debt,
Defence Counsel said Mr Hassan had aserious heroin addiction which brought him into contact with some of the most heinous criminals in Ireland and that he was being used to transport the gun from Limerick to Dublin.Detective Sergeant O`Neill agreed that this was the case.
Via Live 95FM
Gardai believed they had foiled a major Gangland hit when they seized the gun at the time.