Man gets three years for transporting weapon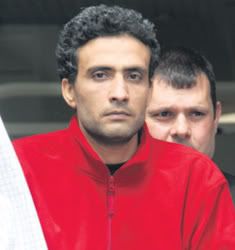 An Egyptian man who had pleaded guilty to possessing a semi-automatic pistol with intent to endanger life and transferring it for a Limerick crime gang has been jailed today.
36 year old Ibrihme Hassan with an address in Co. Kildare was handed a 3 year jail term for transporting the powerful Sphinx handgun from Dublin to Limerick last year.
At the sentencing hearing today, the court was told how Mr. Hassan was "low down the criminal hierarchy" and that the accused was only being used by a Limerick gang to transport the gun along with ammunition. The gun was loaded and had a silencer attached when Gardai seized it on Prospect Hill on June 14th.
Judge Carroll Moran described the transporting of weapons even more serious than the transporting of drugs and sentenced the man to three years in jail, backdated to June of last year when he was taken in custody.
Story Background
Man appears in court after Gangland hit foiled
(Jan 11, 07)
International gang has allligned itself with Limerick faction : Gardai
(June 16, 06)
Three arrested were 'suspected assassins'
(June 15, 06)
Three arrested after Garda raid
(June 14th, 06)